An interwoven story of a Shinto priestess Hiroko and priest Kazu set against an unprecedented event of abdication of Japanese emperor Akihito in 2019. Watch the teaser
here
.
Shinto has been largely inaccessible to documentary filmmakers until now. Our film follows the public and private lives of two Shinto priests, revealing their joy and humor and dedication, but also showing the inner workings of a uniquely Japanese philosophy.
In this film we meet
Hiroko
, a priestess serving in the Dazaifu Tenman-gu shrine, where people worship deified Sugawara no Michizane. Michizane was one of the most popular Japanese poets living in the 9th century. On the other hand, we follow
Kazu
, a priest serving in the Hakozaki shrine, which worship Hachiman – the deity of archery and war. We experience the exquisite blend of beautiful Japanese architecture and nature present in every shrine.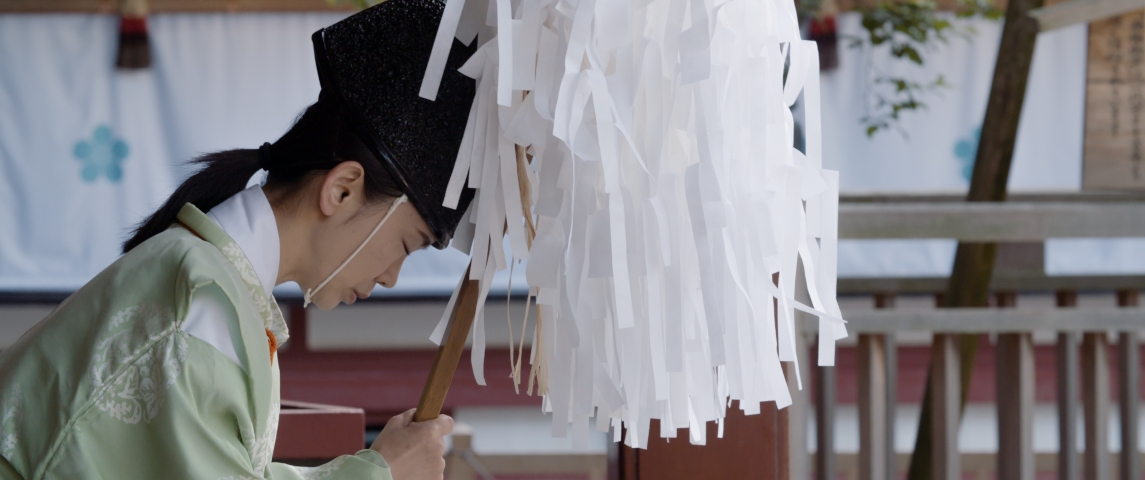 We follow our protagonists' spiritual lives in their shrines, for example watching unique Shinto weddings, tea ceremonies, Noh performances (a form of classical Japanese dance-drama) and priests' sacred rituals, many of which are translated into English for the first time. Along the way, we get to know the history of both shrines better, as our protagonists reveal it during their activities.

We also experience the normal everyday life of our protagonists. We see how Hiroko spends her free time, for example when she takes part in a mountain trip; how she gets close to nature; how she spends time with her closest friends in a cabin - singing or watching stars. We get to know her better as we observe her in an elegant Japanese sushi restaurants or on a motorboat trip. Kazu, on the other hand invites us to a small, but incredibly charming, ramen bar, where we learn how the food is served "Hakozaki style".